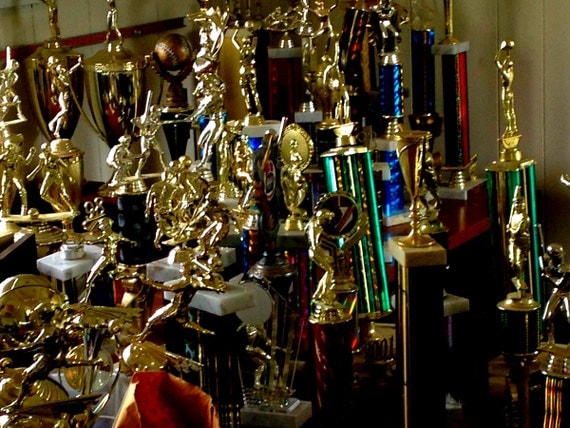 We get asked a lot, just how many recycled trophies did it take to make enough for the barbecue festival?  A whole lot! If you figure we gave trophies out for top ten in each category, plus specialty trophies and MVP's, we made about 50 trophies out of over 300 old ones.  This is simple, we break them down by disassembling and rebuild into bigger and better ones.  We refurbish old parts and donate the toppers we donate to RetroChalet on Etsy (crafters use the toppers for wine stoppers.)
So if you consider for every 300 old trophies, we can make 50 new ones that's keeping a lot of trophies out of the landfill!  Thanks to donations from MD, DC, VA and PA who include schools and colleges, and we thank them!
This post was sponsored by Carpet Cleaning Redding CA   Check them out for all your GREEN WAY carpet cleaning needs!  Thanks guys!
As you know, our first place ,  grand champion and reserve awards were made by Benchmark Custom Signs & Wonders. Phil tries to find reclaimed and upcycled wood, often using old wood cabinetry to make his signs.  So then we had the dilemma of what to do from 2nd through 5th, because we wanted to give trophies.  We heard your cry, that you hate bowling trophies.  So, we took on a nine month project to do something different.
It took 300 Trophies and Nine Months to Obtain Enough Usable Materials.
Baltimore Recycled Artists including DoLoBo and myself had formed a group of teens who were interested in recycling and art.   We had them on a nine month endeavor to collect as many vintage trophies as they could find.  Soon their parents became involved. Together a small army  scoured thrift stores, flea markets, and Craigslist.  We put ads on Earth 411.  People were donating.  We received over 300 trophies circa 1950-2001.
Parts 
We dissasembled all the trophies.  We refurbished what we could, and recycled parts of what we couldn't. Old marble got crushed into a garden bed and the metal parts went to the recycle yard.  We ordered pigs for all and new plaques for 2nd-5th.  We then bought a stack of Southern Planter magazines from the early 1900's some dating 1905-1912. These were big in Virginia, hold a lot of history and focused on farming, cattle raising and pig sales. We felt it only right to somehow add them in.
Re-Assembling
The trophies were then rebuilt–complete with ads from Southern Planter and vintage parts.  There are NO TWO ALIKE.   We had our 2nd to 5th place winning trophies. But the kids weren't happy. We had a lot of parts left.  So….
They kept building.
The kids were determined to continue the trophy quest, they were having too much fun and this project gave them something to do.  They decided that every winner from 6th to 10th will now get a trophy. They were going to get only a ribbon or certificate, but instead, now they will get a trophy. For these places 6-10th, the kids were in control. They don't have the same plaques that the 2nd through 5th place winners do, but we are sure you will love to display it on your shelf.
Smaller trophies in front right were made for places 6-10 by the kids. They don't have a real plaque but instead something the kids made on the computer.  We let them have free reign but helped them with the assembling.
The kids were kept out of trouble for nine months.
They are now all interested in art and going green.
Each trophy was handmade from old parts and refurbished or reassembled.
We've saved over 300 trophies from ending up in a landfill, readjusting them into 38 contest trophies. Pretty cool huh?
We've recycled the parts we couldn't use.
No two are alike.
WE ARE NOW STARTING ON TROPHIES FOR OUR NEXT HOGGING UP.
Oh, and I guess you are wondering what happened to all those bowling guys and girls from the old vintage trophies?
Here they are!